Loving Someone with Borderline Personality Disorder
Publisher:
The Guilford Press; June 29, 2011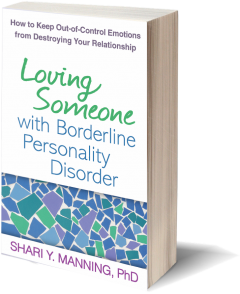 This is a "how to" book that will help anyone that is in a relationship with a person suffering from Borderline Personality Disorder. 
People with Borderline Personality Disorder (BPD) can be compassionate, caring, smart, and funny, but they are also prone to difficult emotional outbursts and self-destructive acts. Shari Manning helps overwhelmed loved ones understand why their spouse, adult child, or other family member acts they way they do and she shows how to respond constructively. Manning understands what it means to care deeply about someone who is afflicted with this serious illness and offers practical tools to help in the day to struggles.
"More than many other disorders, BPD affects relationships. This book offers families and friends invaluable skills for helping both their loved one and themselves. Dr. Manning has done a beautiful job. A 'must read."  ~ Perry D. Hoffman, PhD, President, National Education Alliance for Borderline Personality Disorder
Unlike a lot of books that use anecdotal references, this is a very "nuts and bolts"  book which provides solid tools and very detailed explanations of how to use them. We all know for example, that it is pretty easy to validate someone who is not upset and much harder validating a person who is emotionally aroused. Below are Manning's six aspects of validating someone who is upset.  And while the process appears complex in its description - it's effective and with a little practice it can easily become second nature.  According to Manning, there are really good reasons for changing your responses. The reason for validation is to dampen emotional arousal.
Shari Manning, Ph.D., is the founder of the South Carolina Center for Dialectical Behavior Therapy, a comprehensive clinic that offered standard outpatient and intensive DBT treatment for adults and adolescents. She is the former President/CEO of Behavioral Tech, LLC and Behavioral Tech Research, Inc.

Manning has supervised therapists at the Behavioral Research and Therapy Clinics at the University of Washington and the University of South Carolina as well as supervising therapists and programs at the SC Department of Mental Health and South Carolina Department of Corrections. She also consults for state and private mental health programs at all levels of client care, including forensic and criminal justice settings.

Her research includes investigations of the efficacy of DBT with incarcerated women with borderline personality disorder (BPD) and with adult women with co-morbid BPD and eating disorders. Dr. Manning has written several published chapters and articles on DBT and its implementation.
Read BPDFamily.com members comments here.